0
Android TV
With Smart Remote Android TV's integration, you can control any device running Android TV.
Install Android TV devices via the Wi-Fi discovery within the Smart Remote App and further customize your Android TV experience by changing the layout of your Smart Remote to arrange buttons any way you like with the Smart Remote app's customized layout feature.
Compatible software version
Smart Remote v0.74.21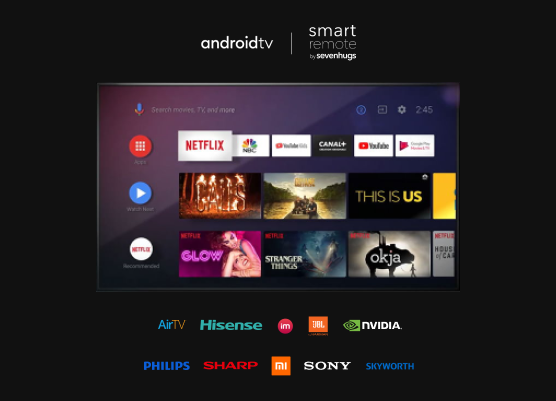 How to set it up
Make sure your phone is connected to the same Wi-Fi network as Smart Remote.

Make sure both your BLE devices and Smart Remote are awake (send a random command to make sure it is awake)

Launch the Sevenhugs Smart Remote app and make sure you are on the Devices & Service tab.

Select "Add a device or service"

Select "Wi-Fi & Bluetooth Devices"

Select "Scan my network"

Select "Android TV"

Please select the specific device you want to add and press "Next"

Press "Got it"

Your BLE device will be added on Smart Remote

The connection and pairing have then to be triggered via the device itself. Please follow the steps on Smart Remote.